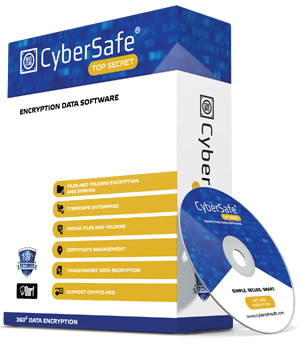 Main Features
CyberSafe provides all possible data encryption tools, algorithms and techniques, such as OpenPGP, Crypto-Pro (certified GOST), MS CSP, 3DES, RSA, AES, GOST, BlowFish. S/MIME, RSA, Public…
CyberSafe software is different! It offers a new approach to encryption without any silly folder names like "My protected folder", "My hidden files", etc. If a file is hidden, it is always encrypted and not visible over network, in Safe Mode, with remote…
CyberSafe Enterprise is encryption software designed to protect information in companies and organizations. One of the main advantages of the program is encryption of network folders…
Cybersafe open source disk encryption software – joint efforts of open source disk encryption tools with encrypted binaries provides an ultimate solution…
CyberSafe is one of the very few software offering files transparent encryption feature. This feature is very convinient for usual file tasks. Files become accessable after CyberSafe is active and the folder is decrypted by a secret key…
CyberSafe Encryption Software Tools can be used as a Certificate Authority Importing, Creating, Exporting, OpenPGP, RSA, GOST 34.10-2001 keys, Editing of PKCS#7 certificates…
Compare
| | | | | | | | | | | |
| --- | --- | --- | --- | --- | --- | --- | --- | --- | --- | --- |
| Features: | | Free | | Advanced | | Professional | | Ultimate | | Enterprise |
| Files encryption | | Yes (limited) | | Yes | | Yes | | Yes | | Yes |
| Partition encryption | | Yes (limited) | | Yes | | Yes | | Yes | | Yes |
| File container encryption | | Yes (limited) | | Yes | | Yes | | Yes | | Yes |
| Transparent files encryption | | Yes (limited) | | No | | Yes | | Yes | | Yes |
| Cloud encryption | | Yes (limited) | | No | | Yes | | Yes | | Yes |
| Corporate cloud encryption | | No | | No | | No | | No | | Yes |
| 2 factor authorization | | No | | No | | No | | Yes | | Yes |
| Public key length | | 1024 | | 2048 | | 4096 | | 8192 | | 8192 |
| Password length | | 4 characters | | 16 characters | | 16 characters | | Unlimited | | Unlimited |
| Best algorithm | | DES | | AES | | AES | | BlowFish | | BlowFish |
| Key length | | 64 | | 256 | | 256 | | 448 | | 448 |
| Digital signature | | No | | No | | Yes | | Yes | | Yes |
| Crypto-Pro Support | | No | | No | | No | | No | | Yes |
| Compression Level | | No | | High | | High | | Maximum | | Maximum |
| Number of Private IDs | | 1 | | 1 | | 3 | | Unlimited | | Unlimited |
| Number of Recipients | | 2 | | 20 | | 20 | | Unlimited | | Unlimited |
| Number of keys in ID | | 1 | | 1 | | 5 | | Unlimited | | Unlimited |
| Licensed seats | | 1 | | 1 | | 1 | | 2 | | 10 |
| Network folders | | No | | No | | No | | Yes | | Yes |
| Network folder users | | 0 | | 0 | | 1 | | 2 | | Unlimited |
| Hide folders | | No | | No | | Yes | | Yes | | Yes |
| Price, USD | | FREE | | 49.50 | | 75.50 | | 95.90 | | 690.90 |
| 30 Days money back guarantee | | Download | | Buy | | Buy | | Buy | | Buy |
Description
CyberSafe Top Secret is an information security program that uses modern encryption algorithms (RSA, AES, BlowFish, etc.). The assortment of tools and features provided by CyberSafe Top Secret are valuable in all fields that work with information: protecting confidential information, protecting E-mail correspondence, creating and validating digital signatures.
CyberSafe Top Secret supports encryption on the basis of Public Key Infrastructure, and allows you to encrypt computer hard drives partitions, create encrypted virtual drives of any size, and also hide logical disks and encrypted files and folders on the user's computer.
Main Advantages
Flexibility
CyberSafe Top Secret gives you the ability to encrypt files and folders in different ways. When protecting files on a local computer, they can be placed in an encrypted partition of a logical disk, can be kept in a virtual encrypted volume, or can be stored in a folder protected by the transparent encryption feature.
When transferring files to other users, you can use Public Key Infrastructure, password encryption or encrypted self-extracting archives.
Supports Several Cryptoproviders
OpenSSL is an open-source cryptographic toolkit that allows you to create RSA, DH, and DSA keys, X.509 and PKCS#12 certificates, digital signatures, and form CSR and CRT.
OpenPGP is a Public Key Infrastructure-based email encryption protocol, which defines standard formats for encrypted messages, digital signatures, private keys, and also allows digital signature validation when exchanging public keys.
CryptoPro CSP is the Russian Federation certified cryptoprovider, providing support for the GOST 28147-89 and the GOST P34.10-2001 cryptostandards, which are necessary when working with any information system associated with the storing and processing of information that constitutes a state secret.
Two-Factor Authentication
CyberSafe Top Secret uses a two-factor authentication system. This means that you not only need to know the password to access encrypted files, but also you need to have the private key, which must be stored on a removable disk, not a personal computer.
In this way, even if an intruder somehow manages to figure out your password, they still won't be able to get access to the encrypted files as the private key is exclusively in your possession.
The Trusted Applications System
The Trusted Applications System was added to CyberSafe Top Secret to strengthen its security. It creates a list of trusted programs that will be able to access protected files for the folder the files are kept in, while the files that are not trusted will not have access. This allows you to limit access to confidential information for spyware, malware and other unwanted applications.
Transparent Network Folder Encryption
The program CyberSafe Enterprise can be used to efficiently set up transparent encryption for network folders in a corporate environment where there is a need to provide several company employees with simultaneous access to the same encrypted folder, and also for setting access privileges for confidential information of any sensitivity level.
Encryption on the User's Computer
When CyberSafe Enterprise is used for network folder encryption, all file encryption and decryption is performed exclusively by the user's computer. This means that confidential files on the server are always stored encrypted which provides reliable protection. The program does not have to be installed on the file server and can be used in a corporate environment for information security in network-attached storages with an NTFS file system.
CryptoPro CSP Support
Russian legislation requires that all public institutions and information systems associated storing and processing information that constitutes a state secret, use encryption mechanisms that meet the GOST 28147-89 domestic cryptostandard, and the GOST P34.10-2001 Electronic Digital Signature standard. In addition, only certified cryptoproviders can be used for information encryption within the territory of the Russian Federation.
The program CyberSafe Enterprise supports the GOST 28147-89 encryption algorithm and is compatible with the CryptoPro CSP cryptoprovider certified in the Russian Federation, therefore, it completely satisfies the above requirements.
Modern encryption algorithms
AES is one of the most widely studied, and used symmetric block-encryption algorithms (key size up to 256 bits).
GOST is the Russian state standard for symmetric encryption (key size up to 256 bits). Among its advantages are that it renders forceful attacks useless, and it provides protection against the sneaking in of false data.
Blowfish is a block symmetric encryption algorithm (key size up to 448 bits). It is used when frequent change of keys is not required and high encryption and decryption speed is needed.
RSA is an asymmetric encryption algorithm (key size up to 8192 bits) allowing Public Key Infrastructure-based encryption (PKI), as well as the creation and validation of digital signatures.
Storing keys on tokens
CyberSafe Enterprise allows you to hold cryptographic keys on tokens. It provides an additional level of security – you can always keep the private key on your person instead of leaving it on your computer.
Licenses and Certificates
CyberSafe's entire product line is certified and licensed by the FSB and FSTEK, which allows the program to be used with Crypto Pro CSP, which is certified in the Russian Federation for information processing in banking, and state institutions.
Support and Training Materials
The official CyberSafe site has detailed text training materials and video lessons on how to use the program, which would be useful both to information security amateurs and seasoned users alike. If you cannot find an answer to a question that interests you, you can always ask through our site's tech support.
Open Source Code
CyberSafe Disk Encryption, and all other products in the CyberSafe line, are open source which lets you be sure of the program's transparency, and that there is no "back door" for information leaks.
Customer Reviews
"Our company's activities are directly related to the storage and processing of personal data that need reliable protection. For these purposes in our daily activities we have more than two years of successful use of CyberSafe – the software to protect information throught encryption".
Bradley Jeffers – Head of IT security
GlobalTeach
"Our company's corporate information is stored on a Windows Storage Server, so it was important for us to set up transparent encryption of network folders on this remote server, as well as to restrict access to encrypted files between our employees. With CyberSafe Enterprise we were able to successfully implement all these tasks".
Tohmas Crouch – Security Administrator
GIGANET
"CyberSafe Enterprise developers were able to unite a really extensive set of features to protect information. Another equally powerful solution we could not find anywhere else. This is one of the main reasons why our choice was made in favor of the CyberSafe".
Benvolio Alampi – Deputy Director on Issues of Information Security
VIRANTO Company
"With CyberSafe software we not only securely protected our data on local computers, but also configured corporate Email encryption in mail clients, as well as on mobile devices running iOS and Android, that was very important for our organization".
Jaremy Clark – CEO
ALMA HealthCare Pharmaceutical Company
"Thanks to CyberSafe software, which is part of our data protection system, we were able to provide reliable protection for the entire flow of information that we process. In our view, today CyberSafe is one of the best solutions for use in companies and public institutions".
Michael Hooper – Head of IT security
Marlow&Hobbs
"A lot of important information in our company is stored on the Google Drive as backups. Thanks to CyberSafe Enterprise we not only reliably protected our files on this remote server, but also were able to resolve the issue of delimitation of access rights to confidential information for our employees, as well as arrange simultaneous work for them with encrypted files in real time".
Karsten Ebersbacher – CEO
Wissenschaft EVD-Systeme GmbH