CyberSafe Disk Encryption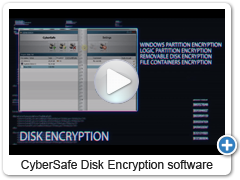 CyberSafe Disk Encryption is an open source encryption software that can be efficiently used to protect confidential information of any level of importance.
The program allows you to encrypt local disk partitions, and also create virtual encrypted drives (cryptocontainers). Encryption is symmetric algorithm-based with a key length up to 448 bits. Encrypted files can only be accessed with the user's personal password.